Submitted by Frank Macey on
The wait is over for fans of tactile keyboards on the iPhone 5. The MiniKey is NUU's answer to the slide-out keyboard case, providing Bluetooth connectivity and replacing the on-screen virtual keyboard. The iPhone 5 version of the MiniKey is slimmer than previous models and as always, it protects your device like a normal case.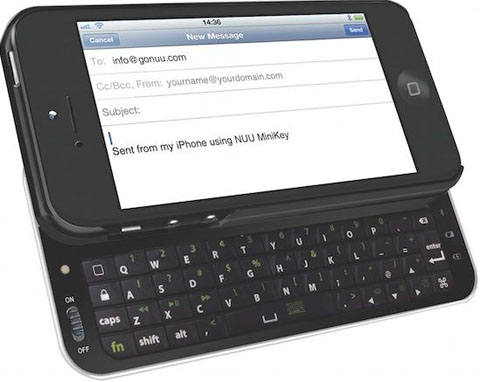 As anyone who has used a Bluetooth keyboard knows, eliminating the need for the on-screen keys provides extra space for whatever app you're currently using. The full display can be devoted to content, since the keyboard is off-screen. NUU has designed the keys on the MiniKey with a tilted face, to match the ergonomics of typing with both thumbs.
The MiniKey for iPhone 5 weighs under 3 ounces, including its built-in micro-USB rechargeable battery. The 42-key slide-out keyboard is available at a moment's notice and even provides a backlight for low-light situations. Shortcuts such as Command + C for copying and Command + Z to undo are also possible with the MiniKey, simulating normal keyboard functions.
Get more information on the MiniKey for iPhone 5 from NUU. Adding this slide-out keyboard case to your iOS device costs $59.