Submitted by Marshall Walker on
CES keeps rolling out the iOS accessories. You can check here for the latest iPad products being showcased in Las Vegas this week.
We've already previewed a few mobile charging devices that made their debut at CES, but how about a battery case that projects an infrared keyboard to make texting and emailing easier on your iPhone!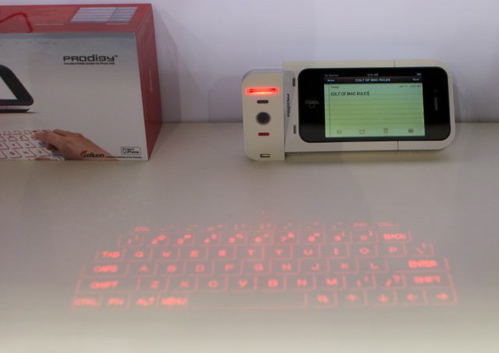 Celluon's Prodigy battery case and interactive keyboard isn't the prettiest looking thing, but the concept is cool. Unfortunately, Cult of Mac says using the keyboard only results in a "frustrating" experience. This is the first negative review I've heard coming out of CES, unless you count the electronic bag of morphing colors Engadget discovered on Wednesday.
"We noticed both conceptual and functional problems with Prodigy in our brief time with it. For one thing, while the case is as svelte as other battery cases, it's a great deal longer thanks to the infrared projecting beam and attached camera, which tries to extrapolate where your finger is when it cuts through the beam and what key you meant to hit."
Celluon doesn't plan to release Prodigy for a few months, which gives them some time to work on their prototype. But as
Cult of Mac
points out, they already have a similar product on the market for the iPad that doesn't work much better. Improved or not improved, Celluon's Prodigy should retail for around $190 when it's finally released.