Submitted by Frank Macey on
There's been a lot of talk about the next generation iPhone sporting waterproof technology. Both Liquipel and HzO are looking to make all of your favorite mobile electronics immune to water exposure and its consequences.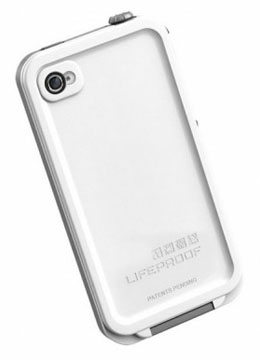 In the meantime, we've seen several cases including the Case Marine and ECO MarineCase hit the market and promise to keep your iPhone dry. Those looking for an all-around durable and waterproof iPhone 4 or iPhone 4S case are in luck, because now the top-notch Lifeproof iPhone Case is in black on Amazon.com.
For comparison, the retail price on Lifeproof's official website is more including shipping. So what do you get for your money? The Lifeproof iPhone Case is the ultimate protection for your iPhone, not only waterproof but dirtproof, shockproof and snowproof to boot. The case covers the iPhone completely, and there are rubber gaskets around each seal. A removable screw protects the headphone jack, making it possible to plug in your headphones when the conditions are right.
An adapter is available from Lifeproof that even makes it possible to connect your headphones while swimming. In order to keep the waterproof gaskets working properly, the case should not be removed and reinstalled more than a few dozen times. This keeps the waterproof seal operating at peak performance. Even though the Lifeproof iPhone Case only weighs one ounce, it can withstand a drop on any side from 6.6 feet in the air. Waterproofing is also rated for a 6.6 depth underwater without leaking or damage to the device.
Double AR-coated optical glass ensures a clear view of the screen no matter what the conditions, and the back of the case doubles as a sub-woofer for richer sound. The Lifeproof iPhone 4/4S case is available in black from
Amazon.com
. Other colors cost extra, including white, pink and purple.