Submitted by Marshall Walker on
Apple should stock up on Kensington's new BungeeAir iPhone alarms. This case doesn't protect your iPhone from falls, but warns you via a wireless security tether when you get a certain distance away from your phone. The distance can be decreased or increased to your liking with the BungeeAir app. This is the perfect invention for people who love to leave iPhone prototypes in California bars!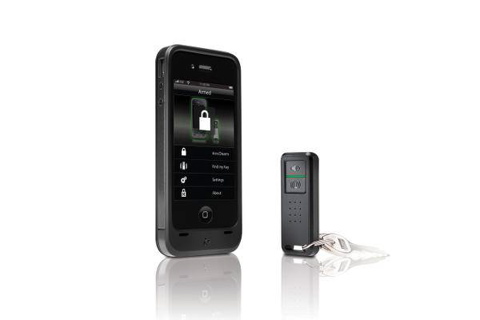 The 3-in-1 accessory for the iPhone is a wireless tether, battery and case. You just put your iPhone inside the case, attach the tether to your keys or pants, and you will never lose your iPhone ever again... Or at least that's the theory. If you still manage to forget your phone, the case automatically invokes the iPhone's passcode security. You can then locate it by using the "find" button which sounds another alarm on the device.
The Kensington BungeeAir Wireless Security Tether for the iPhone retails for around $99. It sounds worth the investment if you're the type of person who likes to forget things!
Kensington BungeeAir Wireless Security Tether for iPhone

- Portable BungeeAir fob attaches to your keys or handbag

- Free BungeeAir app gives you control of the wireless security tether functionality and settings

- Integrated lithium polymer battery case adds 4 hours of power for talk time to your iPhone 4

- Case has a built-in 2-position stand to hold your iPhone in landscape or portrait mode

- Download the Kensington BungeeAir application from the Apple App store at no extra cost - compatible with iPhone 4