Submitted by Marshall Walker on
Apple employees, unreleased iPhones and alcohol obviously don't mix well. Last year an iPhone 4 prototype was lost in a bar and sold to the tech blog Gizmodo for $5,000, which led to a desperate search by Apple and law-enforcement to recover the missing device. In an odd case of deja vu, CNET reported that an iPhone 5 was lost in a San Francisco bar in late July, and possibly sold on Craigslist for around $200. A lot of Apple blogs questioned the story because a spokesman for the San Francisco Police Department said Apple never filed a police report about the lost phone at the bar. But remember, San Francisco was the first place the elusive iPhone 5 was purportedly sited, and in July, West Coast Gadgets announced that Sprint employees would be testing the next-generation device in the city. Maybe a Sprint employee lost his prototype while sipping on tequila in the Mexican restaurant known as Cava 22 -- the scene of our crime!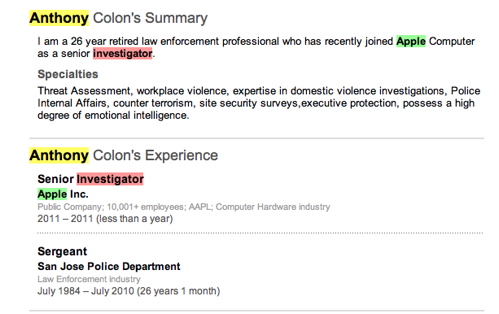 According to CNET, the phone was traced to "a two-floor, single-family home in San Francisco's Bernal Heights neighborhood." San Francisco police searched the home, but discovered nothing. The unidentified man was offered money for the phone with no questions asked, but he maintained that he had no knowledge of its whereabouts.
Now SF Weekly is questioning if the police were ever involved with the missing phone at all. On Friday, Sergio Calderón told SF Weekly that four men and two women showed up to his Bernal Heights home and threatened his relatives about their immigration status, so he allowed them to search his home, car and computer. When the six mysterious men and women failed to find what they were looking for, they all climbed back into a black helicopter and flew away... Just kidding!
The six people, who according to Calderón identified themselves as San Francisco Police, offered him $300 for the missing iPhone 5. When Calderón refused because he didn't have the device, a man named "Tony" gave him his phone number before leaving. SF Weekly called the number and the phone was answered by "Anthony Colon, who confirmed he is an employee of Apple but declined to comment further." According to LinkedIn, good old Tony is a former San Jose Police sergeant, turned "senior investigator" at Apple. The LinkedIn profile was quickly removed, but MacRumors managed to grab a screen shot (see above) before it was deleted.
SFPD spokesman Lt. Troy Dangerfield said,"If the person is reporting that people misrepresented themselves as San Francisco police officers, that's something we will need to investigate We take people representing themselves as police officers very seriously."
If Calderón is telling the truth, then the CNET story looks to be true, and another unreleased iPhone has gone missing. Apple is going to have to stick to a strict no partying with your iPhone 6 policy, or pin them to employee's shirts in the future.
UPDATE: Lt. Troy Dangerfield changed his story. I wonder if it had anything to do with "Tony" being an ex-cop?
"Contradicting past statements that no records exist of police involvement in the search for the lost prototype, San Francisco Police Department spokesman Lt. Troy Dangerfield now tells SF Weekly that 'three or four' SFPD officers accompanied two Apple security officials in an unusual search of a Bernal Heights man's home."