Submitted by Bob Bhatnagar on
The the laser tag craze of the late 80s may have been brief, but it burned so very very brightly. Hasbro is on track to launch a whole new generation of Lazer Tag branded blasters featuring iPhone and iPod touch compatibility. They will work without the Apple add-on however the real fun begins after your favorite iOS device is docked.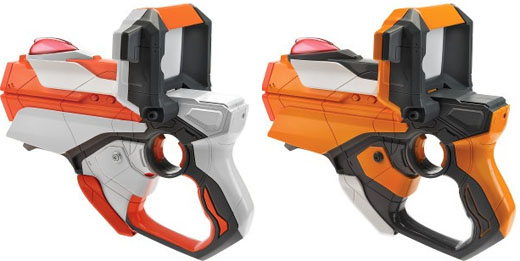 Hasbro will release a free Lazer Tag app that uses augmented reality to provide a heads-up-display that delivers information during battle. Players can challenge their friends or compete against virtual opponents in single-player mode. Much like other solo games, levels can be mastered and difficulty increases as the player collects points and rewards.
What sounds almost too good to be true is the multi-player mode. Up to 24 players can join the field of play and each blaster has a range of up to 250 feet. The laser beam is visible on the augmented reality display, which also keeps track of stats for a leaderboard. Battery power remaining is tracked and upgrades can be unlocked based on performance, such as better gear and firepower.
What's great is that the game is completely immersive and gets people off the couch. The question is whether or not iPhone insurance companies will continue to cover damage inflicted by smashing an iOS device during physical activities for which the smartphone was not designed.
Several competing laser tag concepts are in the works as well, including the open-source
AppTag
and
XAPPR
gun with multiple games. Hasbro will launch the latest iteration of Lazer Tag in August with a two-blaster set running $70.