Submitted by Bob Bhatnagar on
Transferring files to and from an iOS device to the computer is simple with the right tools. iTunes has limitations on what files can be accessed and transferred, but these limitations can now be overcome with DiskAid 5 software for Mac OS X and Windows. The free version of DiskAid provides access to the iOS file system, photos and makes it possible to use the iPhone as external USB storage.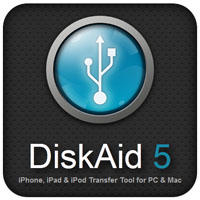 No jailbreak is required to use this functionality on your device, although for root access to the iOS file system you will need to be jailbroken. The full version of DiskAid can be purchased for $24.90, which includes a license for three computers. Registering the paid version will open up additional features including the ability to transfer music, videos, messages, contacts and other data.
DiskAid automatically discovers iOS apps on your iPhone and makes it easy to transfer files to apps or copy folders. Data can be transferred from one iOS device to another, or you can download music from an iOS device to iTunes on a new computer. DigiDNA developed DiskAid 5 to replace TuneAid and completely revamped the music and video transfer wizard interface.
File transfers of music, movies, podcasts, audiobooks and more even include iTunes metadata like play counts and ratings. If you're downloading an iTunes library from your iPhone, DiskAid will even make sure there are no duplicate songs in the existing library on your computer automatically. The DiskAid interface is intuitive, supporting drag and drop functions. A wide array of advanced features gives you more control over how your computer interacts with the iPhone as well.
DiskAid is a great solution for those looking to complement iTunes and add more functionality to their iOS device. The iPhone becomes even more useful when the right software is installed on your computer. Get more information about DiskAid 5 directly from
DigiDNA
.