Submitted by Bob Bhatnagar on
Two months from now Apple will release iOS firmware 4.2 for the iPhone 4, iPhone 3GS and 3G. The new operating system unifies the iOS mobile operating system and iPhones and iPads (with the exception of the original iPhone) will finally be running the same version. Several new features are coming to the iPhone with the iOS 4.2 release.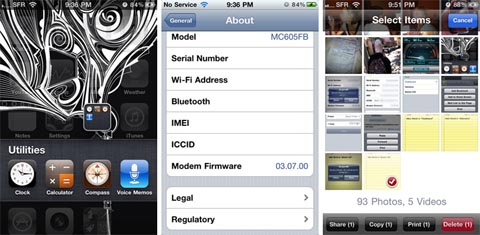 The beta version was released to developers by Apple today. One new application is the multitasking Print Center. Print Center will allow the iPhone 4 and iPhone 3GS to print wirelessly with AirPrint. As long as a Wi-Fi network and a compatible networked printer are available, photos and other documents can be printed directly from the iPhone.
Another wireless-enabled feature is AirPlay. Formerly known as AirTunes, the software allows iPhones to wirelessly stream video, audio and photos via Wi-Fi to another device for viewing.
On a technical note, the iPhone modem firmware is updated to version 03.07.00 in iOS 4.2. Some minor cosmetic changes have been developed on the new firmware as well. The Voice Memos app has a redesigned logo, with a white microphone silhouette on a blue background. The current logo has a silver microphone on a red background.
The Notes app will allow a selection of three different fonts. The current "Marker Felt" will be accompanied by "Chalkboard" and "Helvetica" in iOS 4.2. These preferences can be changed under Settings.
Last but not least, Apple is adding support for .ics files. This means when someone sends you a calendar invitation over email, you can automatically import the event information into the iPhone native Calendar app. A vast improvement over seeing a small, useless .ics icon attached to your email message that's unreadable in iOS 4.1.
Of course, iPad owners will see more significant changes in the jump from iOS 3.2.2 to iOS 4.2. Folders and multitasking, among other features, are already available on iPhones running firmware version 4 or later.