Submitted by Bob Bhatnagar on
BGR already has its hands on a copy of the upcoming iOS 4.3.2 firmware update for iPhone and iPad. According to their sources the update will be released before the end of April, possibly even next week. Several fixes and changes are expected in this minor update.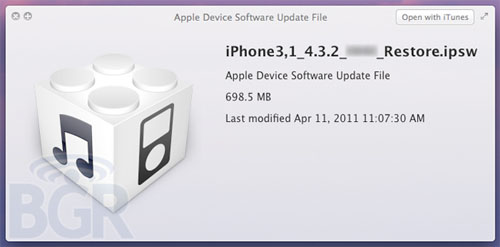 For one, the 4.3.2 update should address the strange FaceTime issues that iPhone 4 and iPad 2 users have been experiencing lately. These include video freezing, having to restart the iPad, and the iPhone 4 leaving behind random photos of users on the screen. iOS 4.3.2 will not presumably be available on the Verizon iPhone 4, which is still running 4.2.6 firmware.
Verizon iPad 2 owners can look forward to the update however, as it is also expected to fix 3G cellular data connectivity issues. Some data plan subscribers have had problems reconnecting to the Verizon network once the iPad 2 is disconnected from 3G, for example when 3G data is switched off in the settings screen. This problem sounds similar to Wi-Fi connectivity issues that plagued the first generation iPad and were later corrected in firmware updates down the line.
There are some reports that iOS 4.3.2 will close some holes used by jailbreakers to run unauthorized third-party software on their Apple devices. As usual, the update will almost certainly contain security fixes to help make WebKit more secure and other minor changes. The previous update, iOS 4.3.1 fixed a few video problems with the iPod touch and compatibility issues when using the Digital AV Adapter with specific HD displays. It was rumored to bring a battery drain fix, however its not clear whether or not this made it into the update.
BGR has installed iOS 4.3.2 and will be reporting on further changes and additions included in the new firmware before Apple releases the update package later this month.