How do I change the name of a group text / discussion in iOS 8 or later Messages?
One of the new features in the iOS 8 Messages app is the ability to change the name of a group text. This can come in handy when you have many group message threads that share a lot of the same people but have different subjects. E.g. you are talking to Tom, Dick and Harry about fishing and Tom, Dick and Larry about skiing; now you can name the conversations "Skiing" and "Fishing."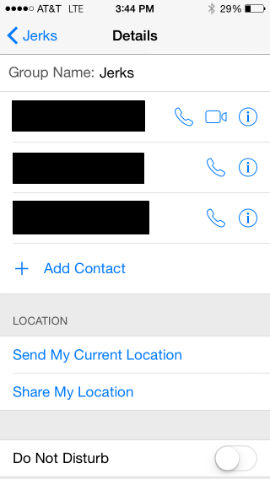 To do this, go into the message thread and simply tap on the "Details" button in the top right of the screen. It's not immediately obvious on the details page because the first thing you see is a list of people in the thread, and you don't see it when you scroll down. You have to scroll up to get to the "Group Name:" form. Tap on the box, enter your name, tap "Done" and that's it. Go through the same process again if you want to rename it.