Submitted by Bob Bhatnagar on
Several Apple patents have surfaced that hint towards possible iPhone hardware updates. One patent reveals an integrated AM/FM radio tuner that would make conventional broadcast radio listening possible. Not only this, but the app design includes a radio map showing nearby radio stations and the associated musical genres.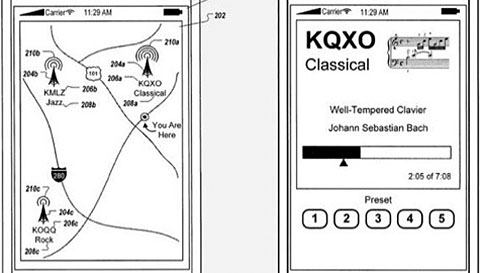 Satellite radio is also mentioned in the patent application, as well as a radio tuner card for desktop Mac computers. The app design includes presets and a similar interface to current broadband streaming radio players.
Another bold idea from Apple involves a redesign of the current MagSafe plugs to accommodate super high-speed data transfer. Current MagSafe chargers are connected to MacBooks using magnetic DC plugs that transfer power but disconnect without damage if the cord is pulled. The modified MagSafe design includes a fiber optic component that could transfer data with Intel's Light Peak technology or another optical data transmission method.
Thanks to the high speeds of optical transfer, USB ports and iPhone dock connectors could become a thing of the past in a future model iPhone. With the MagSafe plug connected to a USB, DVI or RJ-45 cable a variety of different configurations could be used. Apple has also patented data transmission lines that would operate on a bus that doesn't provide power. Speeds of optical transmission would likely start around 10 GB/s.
Operation would likely be similar to current dock connection cables, except that a sync with iTunes should complete in only seconds.