Submitted by Bob Bhatnagar on
In September 2010 the Apple iPhone overtook BlackBerry for the top spot in US smartphone market share. A new report by Nielsen shows iOS commanding 28.6 percent of the market in November 2010, more than any other smartphone operating system.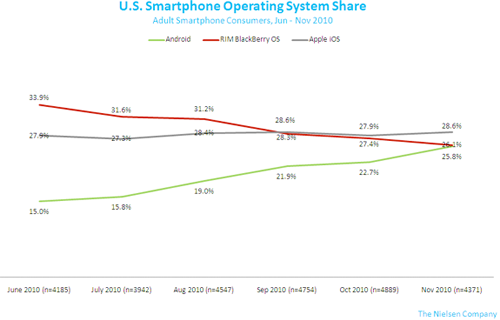 BlackBerry and Android were neck and neck in November, with Android devices on the rise and BlackBerry devices losing market share but maintaining a slight edge. It's not clear how long iOS can keep its top position, as Android almost doubled its share from June to November.
Nielsen also looked at recent smartphone acquirers, those buying new devices within the past six months. In this group, Android is surging ahead while iOS has remained steady. The Android operating system was acquired by adults at a rate of 40.8 percent in November 2010, while the iPhone came in second with 26.9 percent. BlackBerry trailed the pack of recent acquisitions with 19.2 percent of market share.
Although these numbers show a surge in Android popularity, they indicate that Apple still holds the top smartphone market share in the US. The Apple iPhone dominates when it comes to individual handsets. This one family of devices is often compared to all Android phones, which may run the same operating system but are manufactured with different hardware by a multitude of companies.
The iPhone's share of the US smartphone market rose over one percent from June to November 2010, while Android went up almost 11 percent. BlackBerry fell by almost 8 percent. If these trends continue, Android may soon become the most popular smartphone operating system.