Submitted by Bob Bhatnagar on
Some AT&T iPhone customers were shocked to see that the Verizon iPhone includes a Wi-Fi hotspot for up to five devices. Now that Apple has released the latest developer beta of iOS 4.3, it looks like all iPhones will be getting the feature. According to a report in BGR, Personal Hotspot is listed right under Wi-Fi under the Settings menu.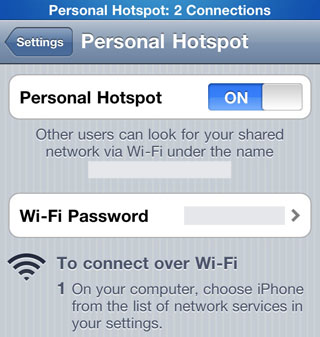 AT&T has not stated whether or not they plan to support the feature. For its part, Verizon hasn't mentioned data plan pricing yet, or whether or not tethering will cost extra. The app featured on the Verizon iPhone is actually native to iOS 4.2.5, the firmware running on the Verizon iPhone.
Right now AT&T customers can tether only one device to their iPhones. A capped data plan (DataPro) must be selected and the tethering itself costs an additional $20 per month. Should Verizon offer multi-device personal hotspots for free, AT&T will have to come back with its own special offer to keep customers. Phil Schiller, Apple VP of worldwide marketing, had no answer when asked if Personal Hotspot was coming to AT&T.
Personal Hotspot will tether multiple devices over Wi-Fi or Bluetooth connections. iOS 4.3 also includes new APIs for developers to make their own apps AirPlay compatible. Sadly for iPhone 3G owners, iOS 4.3 only runs on the iPhone 4 and iPhone 3GS. It's possible that Apple is making iOS 4.2.1 the last update on the iPhone 3G. Usually Apple tests beta versions of iOS firmware for around five weeks, but there's no official release date for iOS 4.3 just yet.