Submitted by Bob Bhatnagar on
AT&T must be feeling the heat when it comes to the upcoming Verizon iPhone. Without exclusivity the wireless company will find itself competing for every last iPhone customer in the US. Verizon made waves when it announced that the CDMA iPhone would offer a personal hotspot for up to five Wi-Fi devices.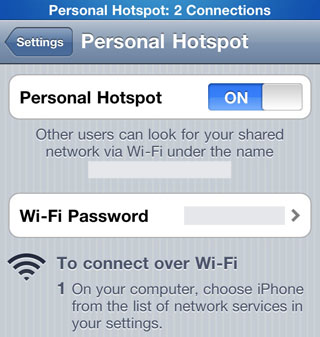 AT&T is set to follow suit and has announced that it's working with Apple to bring the feature to the iPhone with iOS 4.3. Developer beta versions of the next generation firmware have indicated the personal hotspot is indeed on its way.
Currently AT&T charges $20 per month for tethering, but only allows one device to connect to the iPhone at a time, and data transfer is limited to the 2 GB DataPro plan limit. DataPro costs subscribers $25 per month and going over the cap leads to a $10 per GB charge.
The new plan in the works would allow 2 GB for the personal hotspot for $20. This would provide iPhone users with a total of 4 GB across all devices using the personal hotspot and the iPhone itself for $45 per month. In contrast, Verizon is offering the personal hotspot with its own 2 GB cap for $20 per month on top of an unlimited data plan. The unlimited plan costs $30 per month and only applies to the iPhone itself. This makes for a $50 total with separate limits on personal hotspot and normal iPhone data usage.
AT&T will launch a mobile hotspot app along with the new personal hotspot tethering data plans starting with the
HTC Inspire 4G launch
. This Android device hits stores on February 13. No word yet on exactly when iOS 4.3 with the built-in mobile hotspot will be released by Apple.