Submitted by Colin Breck on
Though supplies are limited, existing customers were given the opportunity to reserve a Verizon iPhone starting at 3 AM this morning. This opportunity continues, with Verizon iPhone pre-orders still open and available at this time. If you're not currently a Verizon customer, including AT&T customers wishing to switch to a Verizon iPhone, you'll have to wait until February 9th to pre-order. The Verizon iPhone will be available in full release on February 10th, both nationwide at Verizon and Apple retail stores and online.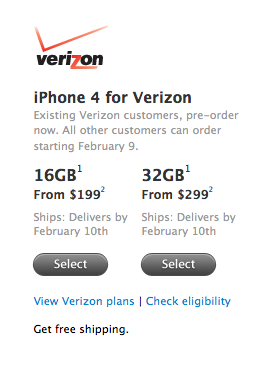 If you're hoping to get your hands on the Verizon iPhone, we strongly recommend pre-ordering. You'll avoid long lines on release day as well as avoiding the possibility that the iPhone will sell out before you can get one. If you're an existing Verizon customer, and would like to pre-order the Verizon iPhone, here's how to get it done:
2. Follow the simple instructions to reserve your iPhone.
Remember, supplies are limited so don't wait until after lunch, you get home, or you finish updating your Facebook status. Do it now. If you're having trouble reserving your iPhone through Verizon due to volume or any other reason, you can alternatively visit Apple's website to make your reservation.
Neither Verizon nor Apple has released sales targets for the release of the Verizon iPhone, but estimates from analysts project that as many as 12 million iPhones may be sold this year. With that many customers trying to get their hands on this long awaited release, the time to act is certainly now.
Got yours? Let us know in the comments below.