Submitted by Bob Bhatnagar on
A prototype of the next iPhone has allegedly been revealed in photos by MIC Gadget. Some are calling the model an iPhone 4S since it relies heavily on the current iPhone design for its form factor. Seen below, the next generation iPhone in white features a larger screen than its predecessor.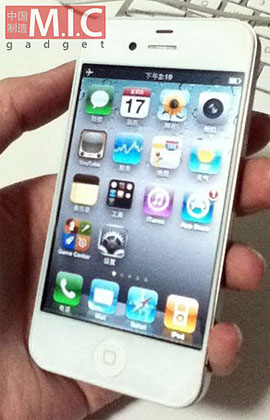 Although the authenticity of the photo can't be assured, this image corroborates several prior reports of a smaller bezel and edge-to-edge screen, cited as 3.7 or 4 inches compared to the current 3.5 inch screen on the iPhone 4. The model pictured above looks like it could be thinner than current iPhone models as well.
There is some debate over whether or not Apple will release a radical redesign of the iPhone or a more modest update later this year. Evidence is mounting that an iPhone 4S could be on its way in September. Apple is preparing to launch the white iPhone 4 this Wednesday after a long delay, this is according to leaks from the Best Buy inventory system. The photos from MIC Gadget have a proximity sensor design that matches that of the current white iPhone in production.
Updated iPhone hardware has already made it into the hands of game developers, and features the same A5 processor shipping with the iPad 2. Should Apple proceed with an iPhone 4S, it would be similar to the transition from the iPhone 3G to the iPhone 3GS. However, the image above hints at some bigger changes to the iPhone 4. The larger screen is a pretty big departure from every iPhone manufactured to date. Although we can't see the back, if the device is thinner, it could mean the back is metal and slightly curved like the iPad 2.
All eyes will be on Apple in June for the WWDC in San Francisco hoping for an official announcement. Until then we'll stay on the alert for information to fill in the gaps.