Submitted by Bob Bhatnagar on
The AT&T app Mark the Spot has been around for a while, but it continues to get new features that should help customers pinpoint problems they encounter on the carrier's network. First launched in December 2009, Mark the Spot makes it possible to report dropped calls or other network issues when they happen or after the fact. The latest update has been highlighted by AppShopper and adds spam text message reporting to the list.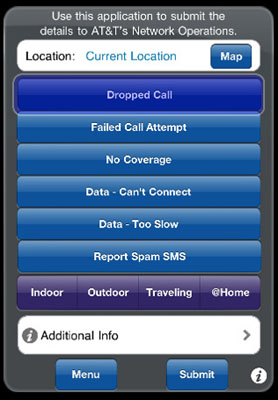 Spam text messages or SMS are really irritating and can come in on your iPhone at any time. With the latest version 2.0.5 of Mark the Spot, you can report these messages by selecting Report Spam SMS. First you forward the offending text to SPAM (7726). When AT&T replies they will ask for the phone number of the sender.
With any luck, AT&T is collecting these spam text messages and phone numbers with an eye on blocking similar spam or other messages from the same numbers in the future. This is a welcome addition to an already useful application. Mark the Spot includes maps to local AT&T Wi-Fi locations and can even be set to deliver news on network updates that are pending or completed.
Mark the Spot requires that your device have iOS 3.0 or later. The app is free on the App Store and has the following features according to AT&T:
- Simplicity of operation
- Submit a report of call or data problems
- Submit a real time report capturing local GPS coordinates at time and place of event
- Submit a report after the fact when a customer is not at the place where the event occurred
- Submit optional additional comments about an event
- View nearby AT&T Wi-Fi locations
- Register to view news on upcoming and completed network updates related to submitted Mark the Spot reports
- Carousel menu allows access to Network News, Feedback and Tips and optimization techniques
- Submit a report of SPAM received on your iPhone