Submitted by Bob Bhatnagar on
The exclusive US carrier for Apple's iPhone has released an application devoted to reporting problems with their network. AT&T will even send a free SMS to confirm receipt of your feedback.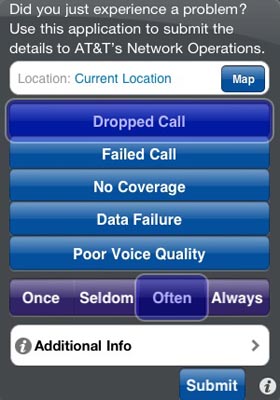 The exact latitude and longitude of the occurrence along with specifics of the problem are sent directly from the application. The main menu offers options including Dropped Call, Failed Call, No Coverage, Data Failure and Poor Voice Quality.
Specific comments about the event can also be entered on an optional feedback screen. The app is called Mark the Spot and it's available on the AppStore for free. Mark the Spot requires iPhone firmware 3.0 or later. AT&T describes the software:
- Simplicity of operation
- Submit a real time report capturing local GPS coordinates at time and place of event
- Submit a report after the fact when a customer is not at the place of event
- Submit a report of dropped call, failed call, lack of coverage, data service failure, or poor voice quality
- Submit optional specific comments about an event
- Receive an SMS acknowledgement that the reported event was sent and received successfully
AT&T is committed to providing its customers with the best network experience possible. This application will help contribute towards this goal and its utilization is greatly appreciated.
The company was recently slammed in a Consumer Reports customer satisfaction survey for network issues and poor customer service. Even though the highly anticipated rollout of iPhone MMS service went smoothly, the company has been fighting an uphill battle for hearts and minds after a delay in launching the service.
AT&T is in the process of adding 2,100 cell towers to its network this year to improve service. The company often cites the heavy bandwidth use of iPhone owners as a difficult technical challenge.