Submitted by Bob Bhatnagar on
The AT&T app Mark the Spot has been around for a while, but it continues to get new features that should help customers pinpoint problems they encounter on the carrier's network. First launched in December 2009, Mark the Spot makes it possible to report dropped calls or other network issues when they happen or after the fact. The latest update has been highlighted by AppShopper and adds spam text message reporting to the list.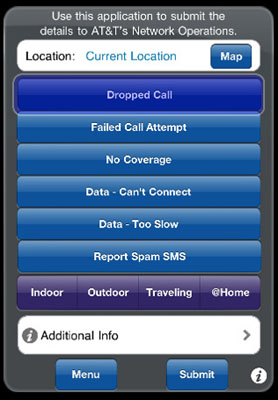 Spam text messages or SMS are really irritating and can come in on your iPhone at any time. With the latest version 2.0.5 of Mark the Spot, you can report these messages by selecting Report Spam SMS. First you forward the offending text to SPAM (7726). When AT&T replies they will ask for the phone number of the sender.