Submitted by Marshall Walker on
I don't know why I started following all these analyst reports, but since I did here's the latest:
Monday: Deutsche Bank analyst Chris Whitmore predicts Apple will announce an unlocked mid-range ($300 to $500) iPhone to penetrate the pre-paid mobile market share.
Tuesday: BMO Capital analyst Keith Bachman believes Whitmore is wrong because Apple will never release a low-end phone. Instead, Bachman thinks Apple will discount the iPhone 3GS to attract people on a budget.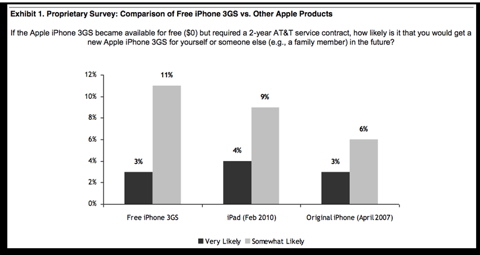 Today, analyst Mike Abramsky with RBC Capital Markets said Apple will break tradition and not discontinue the iPhone 3GS when the iPhone 5 is announced. Abramsky said Apple is "expected" to offer the iPhone 3GS for free to attract mid-market buyers and slow the growth of the Android market.
"While a $49 iPhone is already available (AT&T), psychologically a $0 iPhone provides a compelling offer," Abramsky wrote in a note to investors. "Proprietary survey data… suggests 14% are very/somewhat likely to buy the iPhone 3GS for free with 2-year contract, exceeding buying interest for the iPad (13%) and original iPhone (9%)."
According to Abramsky, the iOS 5 compatible iPhone 3GS will be free with a two-year contract.