Submitted by Marshall Walker on
VitaminWater has figured out a way to make your daily commute better by turning bus shelters into charging ports.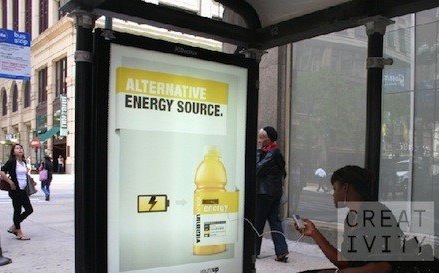 iPhones have made waiting for the bus a little more tolerable, and now you can charge your device at bus stations in Boston, Chicago, Los Angeles, and New York. The ad agency Crispin Porter + Bogusky invented the "Alternative Energy Source" -- an ad campaign to promote the VitaminWater Energy drink by offering USB ports for charging mobile devices at bus stations. Now there are two reasons to walk a few extra blocks to find a bus shelter, to stay out of the rain and to charge your iPhone.
Hopefully no fights will break out over who gets to use them; like someone wanting to play Angry Birds to pass the time vs. the businessman who needs to make an important phone call.
This kind of reminds me of that Charmin Pop-Up Store in Times Square. If there were more clean places to use the bathroom, plus iPhone charging stations, I would visit NY more often.
[via
TUAW
]