Submitted by Bob Bhatnagar on
No joke. AT&T Mobility has begun to offer "refurb cosmetic blemish" 8GB iPhone 3GS models on its website for $0.01 with a two-year contract. Those who aren't comfortable with scratch and dent products can get a normal refurbished iPhone 3GS for only nine bucks. Nine dollars! Pricing on a brand new iPhone 3GS remains $49.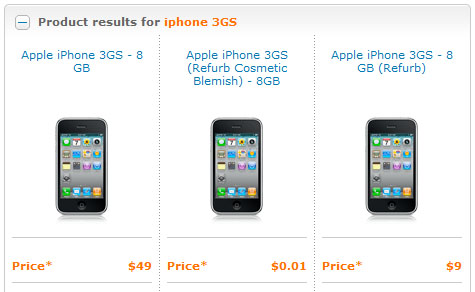 All of these deals as shown above on the AT&T website require a two-year commitment. The pricing changes have fueled speculation that Apple could be stopping production of the 3GS in preparation for an iPhone 4S or iPhone 5 launch as early as this fall.
According to a report by BGR, Apple could keep the 3GS around as a low-cost option for consumers in conjunction with a new model launch later this summer. Their sources claim the 3GS could retail for as low as $350 without a service contract. Other rumors include the iPhone making its way to additional US carriers Sprint and T-Mobile before the holiday season.
When it comes to the one-penny or $9 iPhone 3GS, rest assured that AT&T resets the devices to original factory standards and tests everything before reselling the hardware. Units offered as refurbished have been returned by another customer during the 30-day trial period allowed by AT&T. When buying a refurb iPhone 3GS you get a 30-day trial period of your own as well as a 90-day warranty from AT&T.
Pricing on a new no-commitment iPhone 3GS 8GB is currently $449. Although the iPhone 3GS was launched on June 19, 2009 Apple has supported the device with firmware updates through the latest iOS 4.3.4. Last month CEO Steve Jobs announced that iPhone 3GS owners will be able to upgrade to iOS 5 when it's released this fall.