Submitted by Marshall Walker on
After receiving 250,000 downloads on the Android Market, Thrutu decided to bring its popular multitasking app to the iPhone.
The app allows users to share photos and important information with other Thrutu users without interrupting their conversation. This is a great tool for giving people directions by letting them know where you are. With the touch of a button, you can instantly send someone your location and view each other on a live map while talking on the phone. You can even snap pictures of landmarks to make it easier for your friends to locate their destination.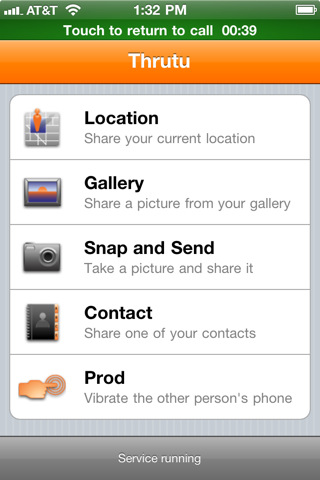 The app automatically opens when another Thrutu user calls you, but you have to manually turn it on when placing a call. The "prod" feature lets you remotely vibrate other devices to let your friends know that an image or gallery was sent to them.
The Thrutu app is free in the iTunes App Store. It is compatible with the iPhone 3Gs and iPhone 4 with iOS 4.0 or later.