Submitted by Marshall Walker on
Keeping more than one mobile device charged while on the go is a challenge for anyone who owns a tablet, phone, GPS and whatever else. Innergie aims to solve that problem with its PocketCell battery pack. The rechargeable battery bank provides portable power and charging capability for iOS and Android devices, MP3 Players, and over 10, 000 other portable devices.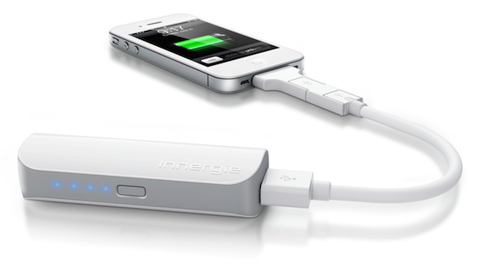 The lightweight (2.8 ounces) charger has a 3,000 mAh capacity and includes the Magic Cable Trio with integrated smart-tip Apple, Micro, and Mini USB connector. It can supply your iPad with up to 4.5 hours of extra use, and gives the iPhone 25+ hours of additional talk time.
The Innergie PocketCell rechargeable battery bank is $79.99. That includes the Magic Cable Trio which carries a $20 retail value.
Extended Power (based on actual device use and internal testing at Innergie):
iPad Up to 4.5 hours of use
iPhone, Android and Blackberry smartphones Up to 25+ hours of talk time
iPod and MP3 Players Up to 100 hours of playback time
Game Console Up to 10+ hours of playing time
General Specifications:
DC Input 5V DC / 1.5A (max)
USB Output 5V DC / 2.1A
Battery Type Lithium Ion
Power Capacity 3000 mAh
Dimensions 3.6 (L) x 1.2 (W) x 0.8 (H) inches
Weight 2.5 ounces (excluding cables and accessories)
Built-in Protection OCP, OVP, OTP, OPP, SCP