Submitted by Marshall Walker on
This week's iPhone App of the Week is the Numberlys -- an adventure story game by Moonbot Studios. Moonbot describes their app as a "celebration of the early fantasy epics King Kong, Metropolis and Flash Gordon." The homage to Fritz Lang is part children's story and part narrative game. The story follows the Numberlys, a group of cute characters who set out to invent the alphabet. Users must help the Numberlys create the letters A to Z in a series of interactive puzzles.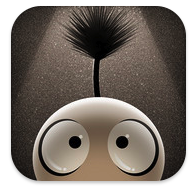 Moonbot founders come from a background in animation and filmmaking. They're more known for releasing book-apps like The Fantastic Flying Books of Mr. Morris Lessmore, not iOS games. Recent reviews of the Numberlys make it sound like a stunning visual experience that is interrupted by a pointless child's game. The iTunes App Store customer reviews also seem to be split on this topic. I haven't played it so I can't comment on its playability.
If you would like to check it out, the game is only $5.99 in the App Store. It is compatible with the iPhone 3GS, 4, 4S, iPod touch (3rd and 4th generation) and the iPad. It requires iOS 5.0 or later.