Submitted by Marshall Walker on
According to the interwebs (via Cult of Mac), a woman has been tracking her stolen iPhone via pictures that the thief has been taking with her phone.
Katy McCaffrey's iPhone was stolen on board the Disney Wonder cruiseline back in April. When the alleged thief named "Nelson" started using the phone to take pictures, they were uploaded to McCaffrey's Photo Stream. McCaffrey then started a public Facebook page entitled Stolen iPhone Adventures to keep track of Nelson's personal exploits.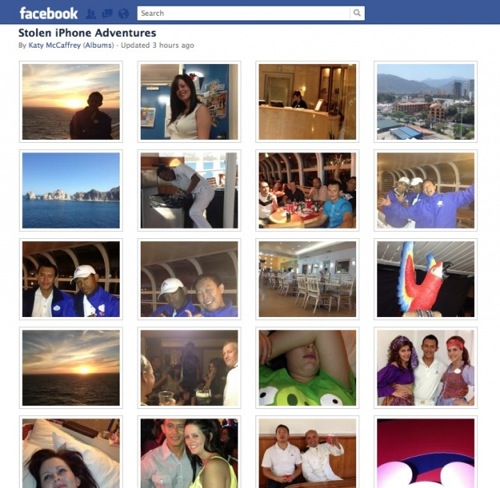 Based on the photos, McCaffrey now knows that Nelson's wife/girlfriend is pregnant, and that they both work on the cruise line.
"I have alerted the officials of the Disney Cruiseline and forwarded them the photos," McCaffrey said. "Hopefully I'll get my phone back and maybe some free passes to Disneyland."
Photo Stream is an iCloud service that automatically uploads photos taken with your iPhone to all your other devices. I doubt it was ever intended to be used this way, but it's pretty funny.
Even though this story is hilarious, I really hope Katy McCaffrey gets her iPhone back!