Submitted by Frank Macey on
Now that iOS 6 has appeared in developer logs Apple is gearing up to show off its latest mobile operating system at WWDC next month. Rumors of iOS ditching Google Maps for an Apple-developed replacement have been around for some time. Now screenshots of impressive 3D map renderings have surfaced.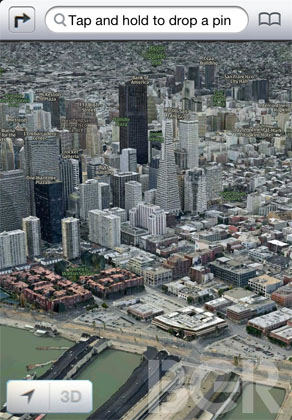 A new silver interface surrounds the maps app, with the location button in the lower left corner next to a 3D mode toggle. Apple's in-house mapping group is also said to be working on an improved version of traffic, and possibly even native turn-by-turn navigation for iOS 6. The upcoming sixth generation hardware is widely expected to have a larger screen, which would only improve the new maps experience.
Apple has acquired more than one mapping company over the past few years, with rumors of an Apple Geo Team surfacing as early as 2009. It's clear that the company has big plans up its sleeve for iOS mapping in the future, as evidenced by mapping patents that include augmented reality features.
Apple's most recent acquisition in the field was C3 Technologies in 2011, specializing in advanced 3D mapping much like we see in the screenshot above. Thanks to sources at BGR, we now know that Apple is testing their 3D mapping software with build 10A3XX of iOS 6.