Submitted by Anders Batten on
Instagram fans will want to check out Instacube, a digital picture frame from designer D2M (Design to Matter). The Instacube allows Instagram users to easily display their photo feeds via Wi-Fi on a 6.5-inch, 600×600 capacitive touch screen. The 7.5-inch frame is powered by Google Android and an ARM processor. It features 4GB of internal memory and has 256MB of RAM.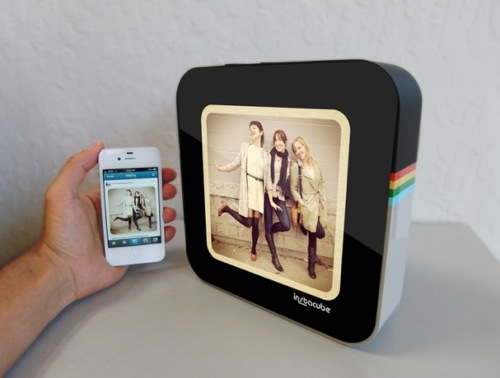 Instacube is easy to use. All it requires is a Wi-Fi connection and an Instagram account. There are only three buttons: one for toggling feeds, one for power and one for liking photos. Instacube is fed from the cloud so you can easily tell it to display custom content, or just let it feed photos from your stream.
Unfortunately the Instagram accessory is not yet a reality. The creators are trying to raise $250,000 via Kickstarter to fund their project. At the time of this post D2M has raised $155,365 from 1,300 backers. You can click the Kickstarter link above to donate, or learn more about Instacube by watching the video below.
[via iDownloadBlog]