Submitted by Bob Bhatnagar on
With the unrelenting flood of iPhone 5 rumors over the past few months, it's a wonder that Apple even had a keynote event to announce their latest smartphone. Despite all of the leaked details, there were still some surprises that Apple fans were treated to, even if the rest of the presentation was just confirming what we already knew.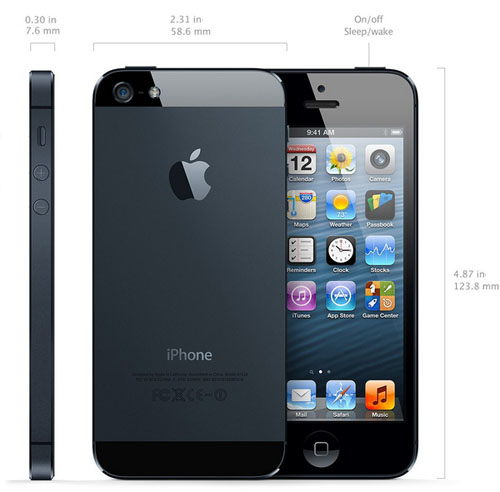 Some of the common rumors that were confirmed included a hybrid metal and glass back, LTE network support and a larger 16:9 ratio in-cell touch display. And of course, Apple made the iPhone 5 thinner and lighter than its predecessor, without sacrificing battery life. Still, there were a few surprises that were mentioned in the rumor mill little or not at all.
One thing highlighted was Apple's focus on build quality. The fact that all of these precise metal and glass components needed to fit so perfectly that an automated system was used to select the best fitting part was unique. Apple's systems select the best fitting exterior parts from a selection of 725 pieces to ensure the chassis is matched with its perfect companion. The question might be whether or not smartphone users appreciate this high level of manufacturing ingenuity when the device in question routinely gets beat up and replaced during normal usage.
Another moment was the announcement of an entirely new and faster processor, the A6. It was unclear with the launch of the new iPad and the A5X whether or not the redesigned iPhone 5 would include a completely redesigned chip. Clearly, this was necessary given the power and size constraints the design team was working with to achieve the slimmer profile and similar battery life to the iPhone 4S.
Other announcements not prevalent in the pre-announcement leaks include:
- A sapphire crystal camera lens
- Distinct slate and silver aluminum coloring on the black and white models respectively
- 44 percent better color saturation in the display
- Cellular data to support DC-HSPA in addition to LTE
- Camera combines multiple pixels to gain two f-stops (better low light performance)
- 40 percent faster photo capture
- Snap still photos while recording video
- Three microphones installed
- Improved speaker design with five magnets (20 percent smaller yet sounds better)
- The moniker "Lightning" to refer to the new 8-signal dock connector
- Completely redesigned earbud headphones
The iPhone 5 is slated for pre-order status on Friday, September 14. Full shipping and availability will commence on Friday, September 21. The iOS 6 release date is Wednesday, September 19.