Submitted by Frank Macey on
Many were surprised when Apple revealed the glass-backed iPhone 4. After all, even though glass provides a smooth and brilliant touch screen surface, fingerprints and risk of breakage are constant problems. An Apple patent filing from last September shows that Apple is considering doubling down on glass as the main device enclosure material.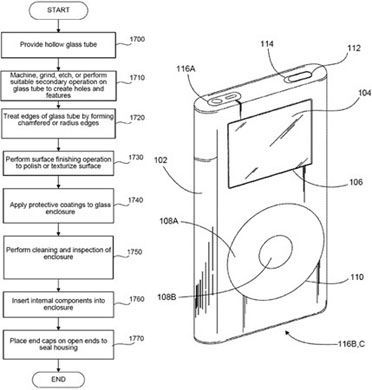 In short, this means that a future iPhone or iPod touch could be made entirely of glass, with the electronic components nestled inside. Some parts, such as the front screen, would be transparent. The rest of the mobile device would be painted, like the current iPhone 4/4S back and front bezel are made white or black.
Glass would provide some advantages for a mobile device such as an iPhone. For one, radio signals for cellular connections and Wi-Fi would not be blocked by aluminum, or disrupted by human hands. The original iPhone featured a plastic window over the antenna, while the rest of the unit was aluminum. Similarly, the Wi-Fi only iPad features a plastic Apple logo in the back, which also acts as a window for radio signals.
Apple explains in the patent application that glass also provides the opportunity to seal a device against the elements. With electronic device waterproofing solutions like Liquipel hitting the market, an all-glass enclosure might not be the best solution. A sealed iPhone would be nice, but does the risk of breakage outweigh the advantages?
Of course, case manufacturers would rush to provide drop-proof solutions to any all-glass Apple device. In the end, it could be that
iPhone insurance
providers convince more people to purchase coverage. A move to all-glass would certainly keep Apple in the forefront of design, even if durability takes a hit.