Submitted by Chad Shmukler on
Although we theorized yesterday that the .Mac web gallery integration feature demonstrated at yesterday's Apple media event would come to the iPhone in it's next update - it appears we were wrong. Apparently, this feature has come to many iPhones without any update at all.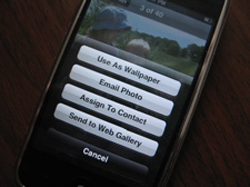 USA Today is reporting that iPhone owners who have a .Mac account established have, while thumbing through their iPhone photos, noticed that the 'Send to Web Gallery' feature we were expecting has already arrived and is available for immediate use.
Just how Apple accomplished this immaculate update isn't clear just yet. Some have suggested this was actually included in the 1.01 firmware and was time delayed somehow. USA Today has suggested elves might be behind the mystery.
Whatever the case, the feature is now available on your iPhone. So, if you've got a .Mac account, go give it a shot. You can begin sharing photos directly from your iPhone and can even give your friends access to send photos to your web gallery as well.