Submitted by Chad Shmukler on
Apple held a media event today, August 7th, where they announced the new iMac. A sleeker, more feature packed, sexier version of the previous iMac. Along with the announcement of the new iMac came a slew of information on updates to Apple software offerings such as iLife, iWork, and the .Mac online service. The most noteable of the group for iPhone owners were the online additions.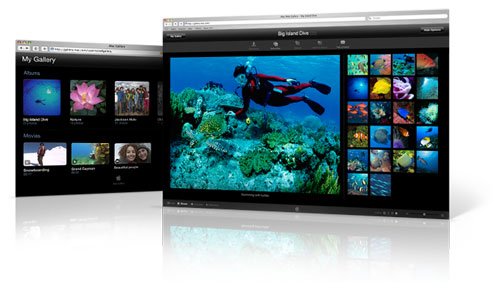 .Mac is Apple's online subscription service featuring email, web hosting, online storage, and other features. Now, added to the mix is the .Mac Web Gallery featuring online photo and video sharing.
After the next iPhone firmware update (we're assuming this will be in the next update), you'll be able to share photos from
your iPhone on the web by sending them directly from your iPhone to your .Mac web gallery. Steve Jobs demonstrated the functionality at the Apple media event today. The process is as simple as a click of the "send to web gallery button" that should soon be added to your iPhone.
Another nifty feature of the service is the ability to give your friend's iPhones access to your gallery as well. You can have multiple users contributing photos to a single gallery.
Of course, the .Mac web gallery also integrates with iPhoto and iLife for sharing content as well.
And unfortunately, no hints towards whether an iPhone firmware update will bring video functionality to the iPhone's camera.
Sign up for a free, 60-day trial of .Mac