Submitted by Frank Macey on
Believe it or not your iPhone 5 can automatically take a panoramic video thanks to the Cycloramic app. Operation is simple enough, just select how many times you want the iPhone 5 to spin around, and decide which camera you want to record from (front or back). The app takes care of the rest.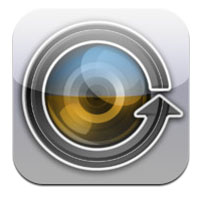 Tapping GO makes the iPhone start spinning around slowly completely hands free, while recording a video to your camera roll. Although it works on older iPhones, the app is recommended for the iPhone 5, which spins properly thanks to how the vibration motor is designed. To make the app work, you must also have Settings -> Sounds -> Vibrate on Ring set to ON.
The magic only happens if the iPhone 5 is standing vertically on an incredibly smooth surface. A glass table, marble countertop, or laminate wood surface are examples of places that work. Otherwise, the iPhone 5 will not spin at an even rate or the bottom of the iPhone could get stuck while turning. You can choose to spin the device 360, 720 or 1080 degrees for a longer video.
As TUAW notes, Cycloramic makes a neat party trick. We are always interested to see developers thinking outside of the box, and coming up with new ways to use Apple's mobile devices. You can grab Cycloramic from the App Store for $0.99.