Submitted by Chad Shmukler on
As expected, Apple's third incarnation of their revolutionary iPhone was announced today at the 2009 WWDC. Though the iPhone announcement followed big, exciting news about new Macbook models and a whirling overview of Snow Leopard, like you, it was the iPhone 3GS grit we were waiting for. After a short session of back-patting about the success of the iPhone AppStore and in-depth overview of the new iPhone OS 3.0, Apple dished out the goods on the new iPhone model.
Phil Schiller announced the new iPhone 3GS as a "really fast iPhone", and then offered up supporting benchmarks that show the new iPhone 3GS as roughly 2x faster than the iPhone 3G model, across most applications.
Schiller also confirmed the presence of 7.2Mbps HSDPA support and gave an in-depth overview of the new 3 megapixel camera in the iPhone 3GS. The new camera offers exciting features such as macro photo taking as close as 10cm from your subject, tap-to-focus
autofocus, auto exposure, auto white balance, and video up to 30fps (with audio). Application developers can even build video capture into their applications. The demoed video was very high quality.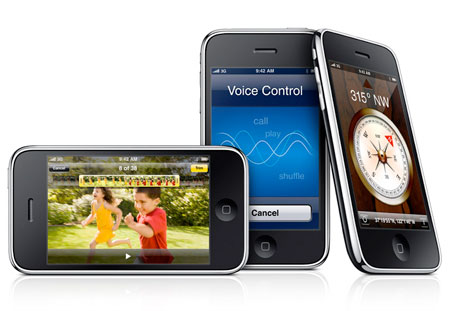 Another new exciting feature on the iPhone 3GS is voice control. By holding down the 3GS's home button, you can perform a variety of commands with your voice -- from making a call to controlling your iTunes. Get ready for this: you can now ask your phone what is playing on your iPhone's iPod, and it will speak the song title and artist back to you. Wow.
More confirmed features: built in digital compass, hardware encyrption (on all 3GS models), and improved battery life (up to 5 hours 3G talk time, 9 hours WiFi internet).
Now to the pricing and model lineup: Apple will keep the iPhone 3G model on the market at $99, while offering up new models of the iPhone 3GS in 16GB ($199) and 32GB ($299). This meets expectations. The iPhone 3GS will be available only in black and white, for now.
The best of the details announced about the new iPhone 3GS today, for most readers, will be the release date. The new iPhone 3GS release date in the US is June 19th, and will find its way to 80 other countries by August.
Check back to the iPhoneFAQ, many more iPhone 3GS details to come.