Submitted by Bob Bhatnagar on
We recently took a look at jLauncher, which upgrades the stock multitasking dock into a full screen control center. Although there are many of these tweaks available, Auxo brings app switcher redesign to a new level. The idea for Auxo was originally just a concept, but designer @Sentry_NC has teamed up with developers to make the iOS tweak reality.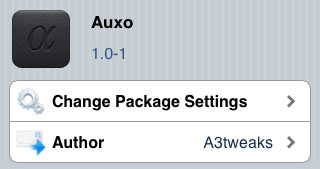 Auxo replaces the normal multitasking dock icons with versatile app cards. Besides offering a preview of each app, they can be removed by simply swiping down. No more holding an icon and tapping red circles individually. Tapping and holding one app card will give you the option to remove all multitasking and recently opened apps at once. Auxo will even remind you that an app is doing something in the background, such as playing music, and confirm the exit.
Aside from the redesigned and improved app cards in the dock, Auxo also adds toggles much like SBSettings right in the app switcher. Swipe over to the far left and there are two rows of simple buttons that will toggle settings such as Bluetooth, Airplane Mode or Rotation Lock with one tap. These toggles speed up access to the most commonly used settings and simplify the process of switching things like 3G cellular data on or off. There's also a brightness slider to adjust the display right from the dock.
When it comes to playing music, whatever app you're currently using will display more information than usual with Auxo. In fact, you can tap the album cover icon to get a full-screen display of album art during playback. There's also a built in volume slider and completely redesigned music controls that make the most of the space. Overall, the designer of Auxo sought to reimagine the app switcher in a way that was seamless with Apple's current iOS design.
Auxo can be downloaded and installed on jailbroken devices running iOS 5 and iOS 6. You can find Auxo in the Cydia app store for $1.99.