Submitted by Bob Bhatnagar on
The strength of your cellular signal can make or break a data connection or phone call. The iPhone is no different, and as iOS users already know the signal strength is displayed on the status bar in the upper left. You can use an app like Signal 2 to get more details about your signal and where it's coming from.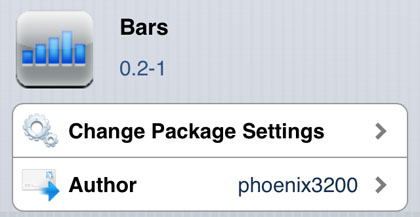 Sound like too much information? Bars will give you more information about your signal while keeping things simple. All this tweak does is take the signal bars you're already familiar with and make them better.
Instead of rounding to the nearest whole bar, Bars makes the display indicate the signal strength in halfway increments. This means instead of the status bar showing 1-5 whole bars of signal strength, it will show you three and a half bars if the strength equates to 3.5 bars. Basically, it's giving you more detail about your connection without entering field test mode to see numerical antenna values in dB.
Bars is available on Cydia from the BigBoss repo free of charge. Check here for instructions on how to jailbreak iOS 6.x with evasi0n. You can also find out how to purchase and install Cydia tweaks with this guide.