Submitted by Bob Bhatnagar on
The jailbreak tweak Auxo has been around for some time. Several iterations have brought an innovative look and feel to app switching and the iOS Control Center. In fact, Auxo pioneered the use of app preview cards which finally made their way into stock iOS 7. Auxo Legacy Edition eliminates some of the flair found on later versions in favor of the simplicity and speed of the original.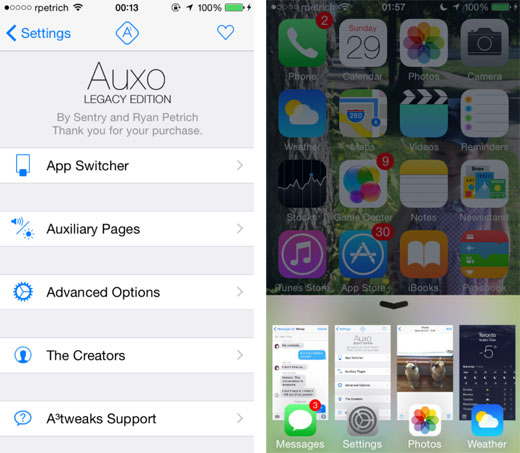 Once installed, Auxo is accessed by invoking the Control Center with a swipe up from the bottom of the display. Instead of the stock toggles and controls, Auxo presents a built-in app switcher with card previews. Swipe left and right to view the most recently used apps, then use preconfigured gestures to launch an app or dismiss. All apps can be exited with a tap and hold. The standard Control Center interface is also accessible in what's called Auxillary Pages.