Submitted by Bob Bhatnagar on
Since its release two years ago, Auxo has been a must-have tweak for jailbreakers. Now in its third iteration, Auxo 3 launches with full iOS 8 and iPhone 6 Plus support. For those not familiar with Auxo, this jailbreak tweak radically changes the app switcher and reduces the need to press the physical home button.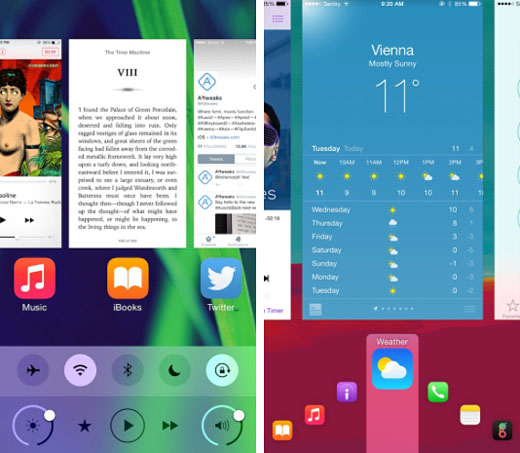 Three main components make up Auxo 3, and these are reflected in the settings. The Multi-Center, Quick Switcher, and Hot Corners make up the bulk of Auxo. In addition, there are advanced options to customize the experience. Once installed, Auxo provides a refined look and feel that blends in perfectly with stock iOS 8 functionality and appearance.
The Multi-Center combines the app switcher with Control Center, putting everything on one screen. Accessing the Multi-Center is achieved by swiping up on the home screen much like invoking the stock Control center. With the Reachable Display option toggled, all relevant controls and toggles will be accessible at the bottom of the display. Sliding up on the home screen card makes it possible to close all apps, while sliding down on an app card opens the app.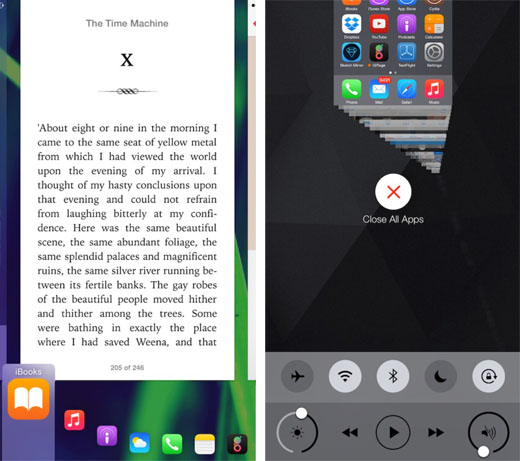 Quick Switcher operates by swiping up on the left or right bottom corner of the screen (left is the default setting). Once invoked, the Quick Switcher can be swiped left or right to access recently used apps or apps running in the background, all in one fluid motion. Fans of the favorites and recently used contacts icons in the app switcher will notice these are gone after Auxo is installed.
Last but not least, Hot Corners makes a simple swipe up on the right bottom corner of the display return to the home screen. This can also be configured to take place using the left side of the screen instead. All told, these three main functions of Auxo 3 make pressing the home button largely unneccesary, replacing the physical button with gestures.
Advanced options are available, such as Tap Brightness Icon to set brightness to minimum or maximum, and Tap Volume Icon to set volume to minimum or maximum. These shortcuts can make adjustments on the fly quick and easy.
Auxo 3 is available from the BigBoss repository on Cydia for $2.99. Those upgrading from Auxo 2 get a discounted price of $0.99. To start customizing iOS, click here for instructions on how to jailbreak iOS 8.0-8.1.1 with TaiG. Those with older firmware can check here for details on jailbreaking iOS 7.0 with evasi0n 7. Pangu will jailbreak devices running iOS 7.1. Find out how to purchase and install Cydia tweaks with this guide.
For new tweaks and the latest jailbreak news follow us on Twitter and Facebook.