Submitted by Sammy Snyder on
One of the fun benefits of jailbreaking has been the ability to change the boring carrier logo in your status bar. Now non-jailbreakers can join the party by downloading a new Mac application called CarrierEditor. The app, created by developers Kevin Lo and Daniel Levi, allows iPhone owners to easily customize their devices by swapping out the carrier logo for other fun logos or pictures of their choice.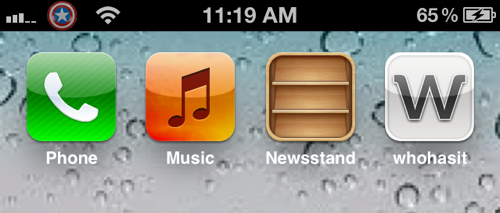 To change your carrier logo, download the Mac application CarrierLogo and select the "Lets Get Started" option once it's installed. It will then ask you for your Carrier Version Number. To find your version go to Settings >> General >> About, and scroll down until you see your Carrier Version Number. After you enter your Carrier Number, hit "Next" and select your device and carrier (not all carriers are supported) from the drop boxes on the next page. You can then go to the next screen and customize your logo by dragging a photo into the available boxes. Next open iTunes and hold down the alt/option key and select "Restore iPhone". Open the new carrier file CarrierEditor placed on your desktop and wait for iTunes to update. Finally, reboot your iPhone and your new icon should appear.
To restore your logo to the original carrier icon, load the original ipcc file on your desktop using the same process.