Submitted by Frank Macey on
iPhone5mod has come up with the perfect product for those who enjoy disassembling small consumer electronic devices and violating manufacturers' warranties. Another body mod kit, this time to make the iPhone 5 translucent. The site claims their replacement parts are even lighter than the originals.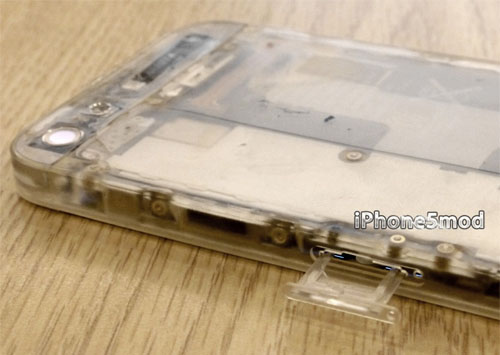 Not only this, but the translucent plastic parts are scratch-proof, fingerprint resistant and highly durable. The new iPhone 5 body parts will replace just about everything on the exterior of the device, and provide protection from damage due to bending or collision. Why hide the insides of the iPhone 5? This is a sure conversation starter, that is if you can get your device reassembled properly.
iPhone5mod claims the parts are made to fit precisely and that the plastic used has a slight elasticity to provide extra durability, especially during installation. There are also 7 different colors available for the top and bottom slats that attach to the translucent back panel. These parts are glass on an unmodified iPhone 5, found above and below the aluminum back panel. Colors available include black, blue, green, pink, red, white and yellow for extra flair.
The translucent kit is available directly from iPhone5mod for $40.
A complete list of parts included in each kit is as follows:
Translucent Back Body Panel
Transparent Sim Card Slot (same color as body panel)
Transparent Mute switch button (same color as body panel)
Transparent Power button (same color as body panel)
Transparent Lightning port slot (same color as body panel)
Camera Lens Cover
Flash Glass Cover
Flash Metal Cover
Transparent Top/Bottom Slats of different colors [this refers to the two pieces of translucent slats that attach to the Back Body Panel]
iPhone5mod is also running a temporary sale, offering kits with all 7 colors for $169 (saving $110 off the normal price for 7 kits).