Submitted by Chad Shmukler on
There have been previously released methods available for using Skype on the iPhone, but none have been particularly convenient. From the looks of things, that's changing. Shape Services, the makers of IM+ for Skype, have released a beta version of an iPhone version of their software.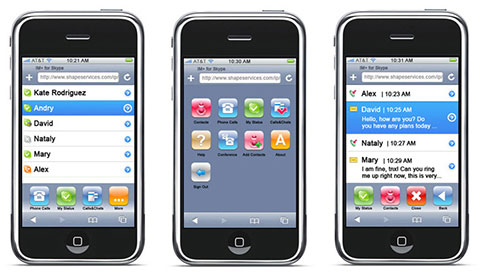 IM+ for Skype is a mobile application that enables voice and text communication with other Skype users and provides cost-effective calling to landlines and mobiles. Unlike previously released
Java and Windows Mobile version of the IM+ for Skype software, this latest release from Shape Services is web-based and is designed specifically for the iPhone and it's Safari browser.
Based on the SkypeOut service, IM+ for Skype allows for cheap calling to landlines using your existing Skype minutes. What's more, there's no indication that being connected to WiFi is required. It's unclear at this point what the Skype/iPhone experience is like over EDGE, but Shape Service is promising "pure Skype quality with no extra voice delays".
The software is only available as a beta at this point, but the good news is that Shape Services is making the beta public. If you want to participate in the beta, just point your iPhone browser to
www.skypeforiphone.com
. The company is asking that feedback be directed to
betaskype.iphone@shapeservices.com
.