Submitted by Chad Shmukler on
Not too long ago, we mentioned in an article how new iPhone social networking communities (like iRovr) were popping up in response to the big three failing to offer iPhone targeted interfaces. At least one of the trio, Facebook, was clearly hard at work on an iPhone interface at the time.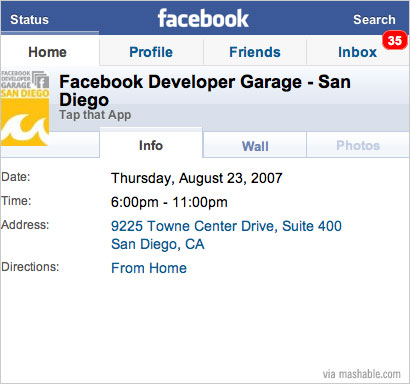 Facebook recently released an iPhone portal to the Facebook community which, to say the very least
, is getting rave reviews. The interface has been described as everything from "stunning" to "groundbreaking" and is delighting users who were impatiently awaiting a zoom-less Facebook on their iPhone.
It has even been suggested that the iPhone interface places features in a such a handy and intuitive manner that it makes it easier to use than even the standard Facebook interface.
Most importantly, the folks at Facebook have clearly gone a long way to making sure the new interface "jives" with the iPhone look and feel by adding in features such as horizontal scrolling screen changes, animated tab switching, and iPhone style scrolling.
You can access the new iPhone interface via iphone.facebook.com. You can even get a preview of the interface via your normal browser, as the new interface isn't restricted to the iPhone's mobile Safari browser. It is, however, clearly intended for such.
[via mashable.com]