Submitted by Chad Shmukler on
One of the best features of the Apple iPhone is the amazing clarity and large size of it's LCD screen, particularly when compared to other mobile phones. As many have suggested, this makes the iPhone perfectly suited to reading mobile eBooks. While a few rough eBook offerings have popped up since the iPhone launched, today the first major publisher - Harper Collins - began offering eBooks on the iPhone.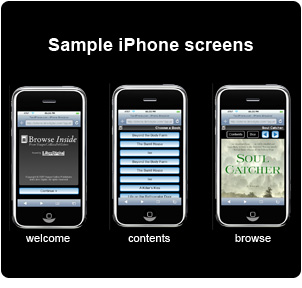 The new eBooks service from Harper Collins will allow iPhone users to browse titles and read up to 10
pages of the book for free, after which readers can order a hardcopy of the book for home delivery, or subscribe to the Harper Collins mobile eBooks service for access to the full book directly on their iPhone.
Currently, Harper Collins is offering 14 book titles including Now and Forever by Ray Bradbury, Obama by David Mendell, and Soul Catcher by Michael C. White. Harper Collins, who says they already have over 10,000 titles digitized, will expand the number of eBook offerings over time.
According to Harper Collins president Brian Murray, "reaching consumers on mobile devices and the Internet is increasingly important for publishers". The new iPhone interface is part of a larger Harper Collins effort to increase digital availability of published works worldwide.
You can access the new Harper Collins mobile eBook service on your iPhone via this link.