Submitted by Marshall Walker on
In case you didn't get your fill of Shaquille O'Neal inspired video games in the 90s, developer One Spear Entertainment thought it was a great idea to release a new O'Neal game for iOS devices. ShaqDown was released earlier this year, but it's free this week thanks to the Free App Alliance. Normally the FAA is a great thing, but helping ShaqDown get more exposure is not being helpful at all. Okay, maybe I'm being a little harsh, but people are still healing from the scars of Shaq Fu almost 19 years later, and ShaqDown is only reopening old wounds.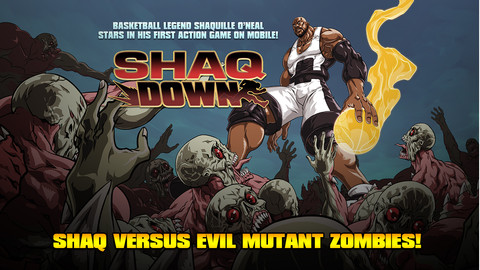 ShaqDown isn't as nearly as horrible as Shaq Fu, but it's not worth downloading either... Not even for free. It's basically a side scrolling Temple Run-type game where you jump around to avoid zombies. You can perform certain moves like uppercuts and body slams, but it's not enough to breakup the tedious game play. ShaqDown is one of those simple games where you keep messing up because you can't stop zoning out. The game's frustrating swipe gesture controls will also make you want to smash your device more than once, and it needs to reload every time you die.
Shaquille O'Neal fighting zombies sounded like a fun concept, but unfortunately ShaqDown is just another dumb O'Neal project like Kazaam. I can gurantee most people will delete this app from their iPhone without even completing the first level.
ShaqDown is compatible with the iPhone and iPod and requires iOS 4.3.0 or later. It is also optimized for iPhone 5. The game is free to download from the App Store.