Submitted by Marshall Walker on
OMG: TD! looks a lot like one of those games you see on your Facebook feed or advertised on another game. The type of game you download only to find out it is virtually unplayable because of in-app purchases, or that you have to wait 24 hours to build one item, but it's actually a fun tower defense title with plenty of replay value.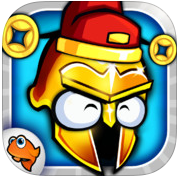 The game's turrets are all modeled after Greek gods like Zeus and Ares, and the object is to stop waves of Titans and their armies from destroying your temple. Currently (Version 1.0.4) there are 20 levels and six bonus levels. Each level has a Normal mode, Challenge mode and Frenzy mode giving you plenty of different scenarios to complete. The game also includes heroes (1 free and 5 available as IAPs), four special abilities and nine gods to use as your defense. Each of the heroes and gods can also be upgraded with souls you collect from your fallen enemies, and each features their own special abilities and strengths.
OMG: TD! is a lot like Kingdom Rush and Kingdom Rush Frontiers -- it's a lot of fun to play, it's challenging and it features playful, cartoonish graphics, but unlike KR, OMG is free to play. It also doesn't require any in-app purchases to complete. The game's challenging levels and multiple modes also gives it a high replay value.
OMG: TD! is highly recommended for tower defense fans and iOS users looking for a free game that will provide hours of entertainment without the need of in-app purchases. The game is available on the App Store and is compatible with all devices running iOS 5 or later.