Submitted by Bob Bhatnagar on
Finger Spinner has rocketed to the top of the free App Store charts, bumping YouTube from the number one slot. The concept of the game is simple: swipe to spin the spinner, which is based on the real-life fidget spinners that are taking over schools and workplaces around the globe. Each spin earns coins, which can be used to upgrade the maximum speed or grease the wheels to extend the spin for a longer time.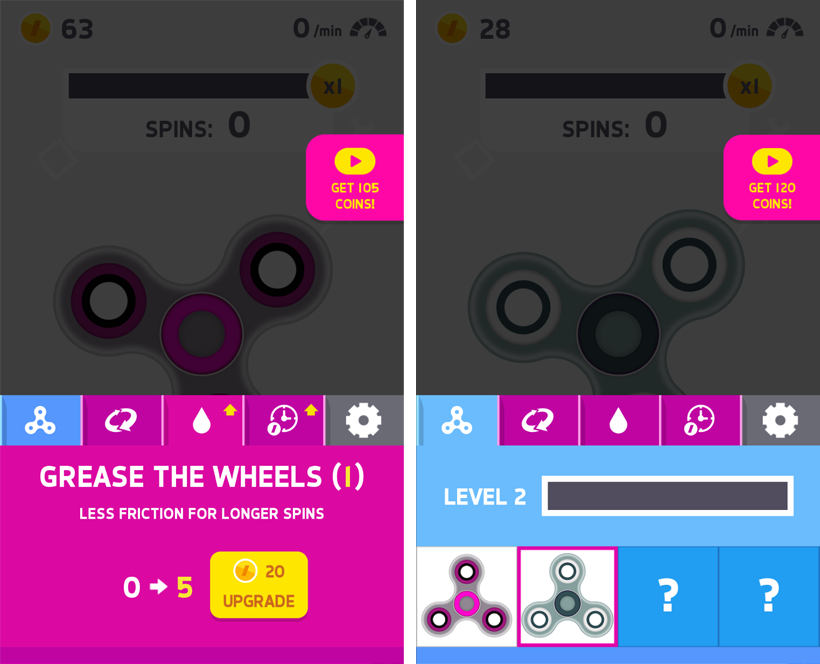 Trying to beat your high score can be addictive, and as more spins accumulate the spinner itself can be leveled up. Finger spinners in the game come in all shapes, colors and sizes, along with different sound effects to match. Higher level spinners with upgrades can achieve multipliers. Players can also earn even more coins by watching 30-second advertisements, or when the app is not in use with Restless Earner mode.
There are some tricks to increasing the number of spins. For example, the player only gets five swipes per play. Letting the spinner slow down in between swipes will maximize the total number of spins. Those with 3D Touch devices have to watch out, as swiping too aggressively from left to right will invoke the iOS fast app switcher, and return to the previously used app.
Overall, if you have time to waste Finger Spinner fits the bill. Much like real fidget spinners, the game just goes around in circles as the clock keeps ticking.
Finger Spinner is free on iTunes and requires iOS 8.0 or later and 64 MB of space to install. To remove in-game advertisements, players can buy the In-App Purchase "NO ADS" for $1.99 directly from the Settings tab.