Submitted by Sammy Snyder on
In celebration of NASCAR 2014 ETX Racing has released NASCAR Manager for iOS, Android and Amazon devices. The free-to-play racing game is an officially licensed NASCAR title that challenges fans to maintain their vehicle, team and tactics on the road to the Sprint Cup Championship.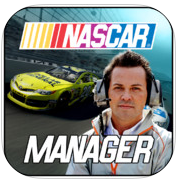 NASCAR Manager is a strategy game that allows players to unlock sponsorships from real life manufacturers such as Chevrolet, Toyota and Ford, and it offers the ability to customize your own vehicle so you can get an edge on the competition. The game features two game modes (Career and Season mode) and the ability to participate in Speedweek Challenges. The game also includes HD graphics, an easy to navigate interface, and official drivers, tracks and cars.
"Winning the Sprint Cup is about so much more than the fastest driver. Strategic decisions about vehicle specs, crew talent, and resource allocation determines who owns the competition in the long run," said Ed Martin, Executive VP at ETX Racing. "NASCAR Manager captures a different side of motorsport, allowing fans to experience the careful decisions that fuel every season, every race, every lap."
NASCAR Manager
is now available for free on the
Apple App Store
. It is compatible with all devices running iOS 7 or later, however, the game does not work with the fourth-generation iPod touch. Here's a complete list of supported devices: iPhone 4, iPhone 4s, iPhone 5, iPhone 5c, iPhone 5s, iPod touch 5, iPad 2, iPad 3, iPad 4 and the iPad mini.