Submitted by Sammy Snyder on
Adult Swim has done it again with the first mobile musical, Peter Panic. In Peter Panic you're an aspiring young director who wants to reopen the small theater in your hometown after it was shutdown due to mysterious circumstances. The goal of the game is to sing your way through various mini-games to earn cash and recruit staff for your theater company.
Peter Panic is made up of different Acts with musical cut screens performed by real Broadway talent, mini-games and occasional satan worship. Act 1 starts off with several locked buildings and a peanut packing factory. You need to complete 15 mini-games in the peanut packing factory to unlock the next building and advance in the game. The mini-games are simple tap, swipe and timing challenges, but as you advance each game gets faster and features an occasional curveball to keep you on your toes.
What makes Peter Panic so much fun is the nutty musical story. The musical scenes are not long, well done and you can always easily skip them. The mini-games are also challenging and full of surprises that move the story forward. If you enjoy the quirky humor of Adult Swim you will love Peter Panic. It features the same relevant pop culture commentary as the network's popular televisions shows, such as Rick and Morty.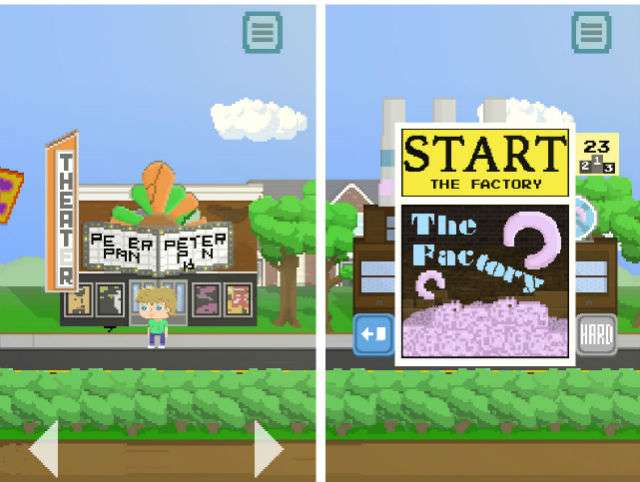 Peter Panic is available for free on the Apple App Store. You can play the entire game for free without saving or pay $2.99 to unlock the ability to save your progress. The $2.99 upgrade is well worth it because Peter Panic is not the type of game you can fly through. You will need to replay every level over and over until you learn how to complete all of the mini-games to advance to the next building. Each level or building also includes 3 levels of difficulty to master.
Broadway fans will also want to pay attention to the beginning of every new musical scene to catch the names of the actors performing the songs. The game features talent from top Broadway musicals such as
Fun Home, Hair, The Little Mermaid, Motown, Spring Awakening
and
On Your Feet
.
Peter Panic supports all devices running iOS 8.0 or later, including older hardware like the iPhone 4s.