Submitted by Sammy Snyder on
Splitter Critters is a unique puzzle game by RAC7 Games. In the game you must use your finger to split environments in half to help little teal critters get to their spaceship. It's harder than it sounds, and it is a lot of fun. The game gets even harder as you advance and dangerous monsters and other obstacles are introduced forcing you to make multiple creative splits to save your little friends
Splitter Critters is kind of hard to do justice in text. You can see an example of the gameplay in the two images or the video posted at the bottom of this post. The gameplay is also so simple that there isn't a lot to say about the game, but I'll try.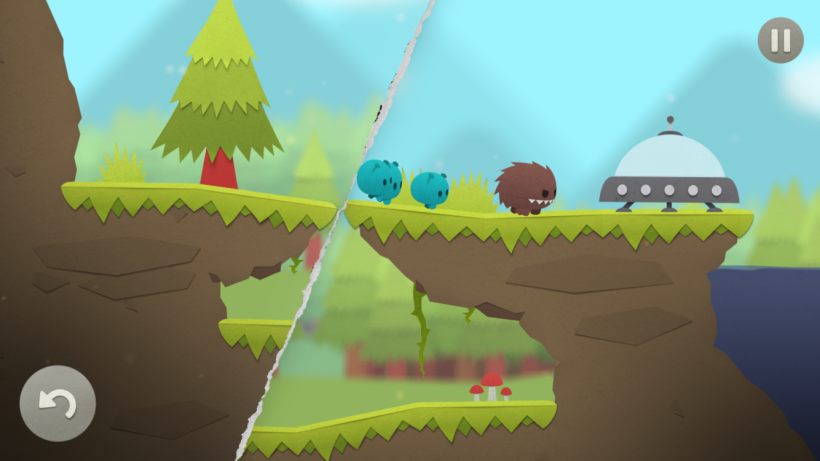 Splitter Critters not only offers an original concept but it also features colorful levels with great graphics and soundtrack. The innovative puzzles are fun and don't punish you for mistakes. Instead of having lives or stamina, you can hit the refresh button to erase your last move as many times as you need. You can also start over from the beginning until you figure out the best way to save the critters. This allows you to take your time to solve each level making the game less frustrating than other puzzle titles. This doesn't mean Splitter Critters is easy, as the levels to get increasingly harder as you advance to new planets.
Version 1.1.4 of the game includes 5 planets with multiple levels on each planet. The official App Store description promises more levels will be added in future updates. Splitter Critters is also a premium title, which means there are no IAPs, advertisements, or additional payments. You can download the entire game for the onetime price of $2.99.
Splitter Critters
is available now on the
App Store
. It supports all devices running iOS 7.0 and later and synchronized iCloud saves across all devices.