Submitted by Marshall Walker on
The simulation cooking game Cook, Serve, Delicious! was originally launched for the PC in 2012, and it has slowly gained a large following after making its way to iOS and eventually Steam. However, the game was only released for the iPad as a $4.99 HD version and free "lite" version, but now an iPhone version of the game has been added to the App Store too.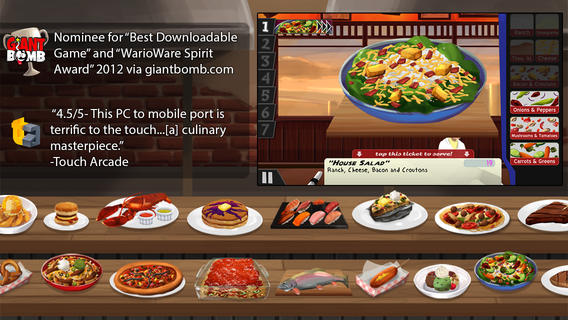 Cook, Serve, Delicious! is a lot like other cooking simulation games where you prepare food by completing various cooking tasks in the correct order. What separates it from other standard cooking games is its business simulation, and its requirement that you complete other non-cooking tasks like cleaning the toilet.
The game starts out with a confusing warning about not working on some devices. Ignore the warning if it says the game doesn't support the iPhone 4s, this incorrect. I have tested it and it works fine, but the game is not recommended for the iPhone 4 or earlier versions.
After a lengthy tutorial, you will be given a budget to buy kitchen equipment and food. After everything is bought and your menu is planned, you will be ready for your opening day. Good luck!
Cook, Serve, Delicious!
is not easy at first. Learning how to set rat traps while preparing hamburgers for impatient customers takes a bit of trial an error. Make sure you choose your menu carefully at first and use the "Try Out" option before adding any new dishes. Each recipe is different, and you will lose a lot of business if you try learning new recipes on the fly. You will also be using swipe controls to complete various other tasks like taking out the trash and washing dishes, while attempting to serve your customers at the same time. This adds a whole new dynamic to the game and takes a few tries to get down at first. Also don't forget to wash your hands!!! This has killed me several times while playing the game.
The game also requires that you build buzz for your restaurant by constantly improving your dishes and keeping your menu fresh. People will get bored of corn dogs quickly, so make sure you keep earning enough money to buy new equipment and food every few days. Each food item also has pros and cons. For example, the Fresh Fish dish attracts VIPs and health nuts, but it smells and attracts rodents, which requires more rat traps be set during business hours.
Cook, Serve, Delicious! is perfect for people who enjoy simulation games where you must also perform tasks. The iPhone version is currently available for free in the App Store.